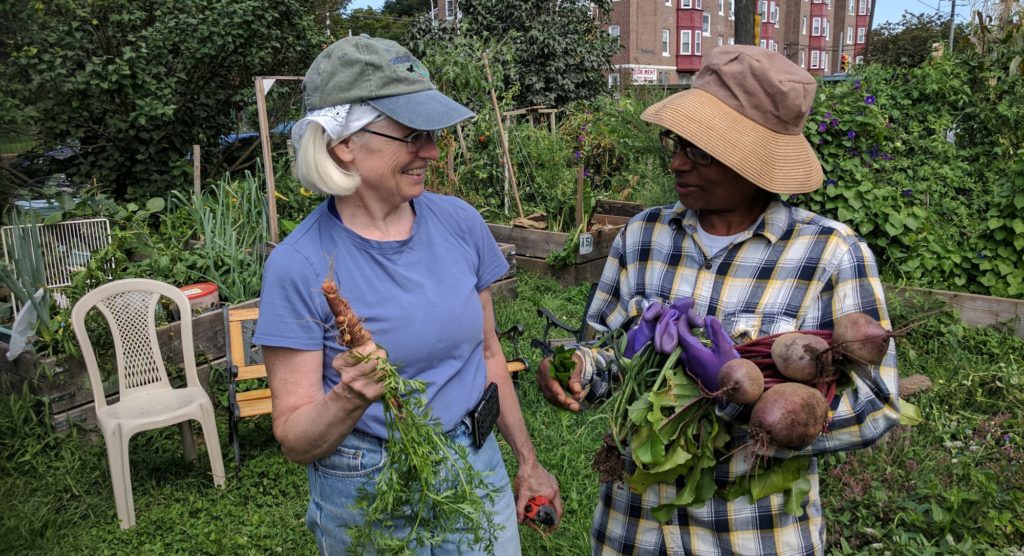 Garden Membership
Hansberry Garden & Nature Center, Inc., is a unique place where strangers grow into friends, seeds grow into flowers and food, and random individuals grow into a dedicated community. We are a community garden where folks can raise fresh food for themselves, family and friends. We are a community gathering spot for workshops, potlucks, plant sales, and other fun and friendly events. We are a nature center where children come to learn about the life of plants, the importance or peskiness of birds, bees, insects and worms. And we are the sponsor behind  community projects in our neighborhood, including City Harvest, the Kelly Green Project, and Open Air Open Mic.
So, joining HGNC is not just for growing a few vines of tomatoes or bunches of kale. Being a member at Hansberry is joining a team of generous and welcoming people, dedicated to sharing Mother Nature's creative energy in southwest Germantown.
Cost of membership for 2020: $40 membership fee (plus a $5 key fee for new members).
Benefits of Planting Membership:
One 4′ x 8′ planting bed
Free access to the garden (after an orientation)
Access to the tool shed, which contains a variety of gardening tools, helpful books, and even free seeds to get you started on your new bed
Early access to our annual Plant Sale, members-only events and potlucks, and more
Belonging to a warm, welcoming community that helps Germantown thrive
2020 Meeting and Work Requirements
Attendance at annual Spring Gathering on Saturday, March 21
Attendance at one of three orientation sessions (for new members)
A minimum of 10 hours of volunteer work on maintenance of garden common areas or a garden committee, event, or project
Online Resources for Members:
To email all members (address works only when email is sent from an account associated with your HGNC membership):
members@hansberrygarden.org

Officers

Acting President Claudia Ginanni:

Vice President and Kelly Green Project Chair Dennis Barnebey:

Membership Chair Janet Peterman:

City Harvest Chair Hillary Van Anda:

Landscape and Maintenance Chair Kirk Raper:

Treasurer Terry Trudeau:

Fundraising Chair Camille Poinvil:

Communications Co-Chairs Claudia Ginanni and Camille Poinvil: